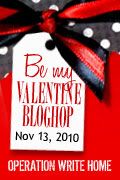 Today, Operation Write Home is hosting the 'Be My Valentine' Blog Hop to gather Valentine cards that the troops can send home to their families and loved ones.
If you've come from Raissa Stamps' blog, you're on the right track. If not, please head back to the beginning at the OWH Stars and Stamps blog to start at the beginning. There will be lots of fabulous samples, some tutorials and even a bit of blog candy here and there, so make sure you see it all! For those of you that may not know, Operation Write Home collects cards from card-makers across the United States to send to our troops that are not at home - so that they, too, can send cards to family and friends. Today's Blog Hop is dedicated to Valentine's Day - something sweet to send to a sweetheart or a child here at home. Yes, they're that far ahead. It takes time to get the cards to one of the regional locale's to send them over to the troops. The deadline is set for January 7th, but I'd try to get them out even sooner than that. Please note, OWH has asked that no more Christmas Cards be sent at the present time as they have already gone postal to the troops. Please save them for next year.)
This first card used an image from
The Stamping Boutique
. Tracey draws the sweetest images, available as digital stamps. I've been lucky enough to have been on Tracey's Design Team since September and have loved every minute, as well as Tracey's images. This one is Audrey collecting Valentine's. I colored her with Copics and added some glossy accents to the dove's heart then some clear glitter gel pen to the sparkles Tracey includes. I finished with a gingham ribbon, Hero Arts sentiment that was circle punched & Stickled before popping them up for dimension.

My second card was made with another digital image from The Stamping Boutique , AJ with Sign. He, too, was colored with Copics. I hand-wrote the sentiment. The tan background is dp that I ran through the Stampin' Up Textured Wallpaper embossing folder then sponged over with red ink. I used Nesties oval and oval scallop dies on the image, popped it up for dimension, then finished the whole thing off with some pink and red buttons.
My third card is yet another digital image from The Stamping Boutique, Valentine House, once again, colored with Copics. I made the background dp by randomly stamping with red on white from the Stampin' Up's Elegant Embroidery set. All layers were matted on real red. I finished off with some crystal accents on the hanging heart and windows; a red satin ribbon and a Hero Arts sentiment punched with the Creative Memories Heart punch set. There are some red rhinestones on the sentiment label and the corners of the image panel.
Thank you for stopping by ... I love to hear your comments. As a plus, all those who leave comments will be entered into a random drawing for some BLOG CANDY! Your choice of THREE brand new Copic Sketch Markers. I will draw for the winner on Wednesday, November 17th and will post the winner here on my Blog.
Hope you have a sweetheart of a day!